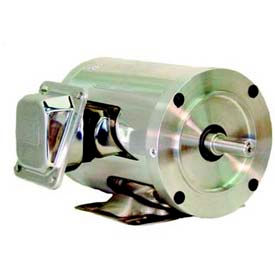 WEG SHARK™ Washdown Motors
WEG SHARK™ Wash Down Duty Motors Are Used For Food Processing, Pharmaceutical And Other Environments Requiring Extreme Cleanliness And Frequent Washdowns.

WEG SHARK™ Wash Down Duty Motors are solidly manufactured for long lasting durability and dependability. High Quality 304 seamless stainless steel tube frame, conduit box and cover and endbell at both ends for wet or corrosive environments. 6200 series bearings. Inverter duty wire. VPI with Epoxy encapsulated windings. High Efficiency design. Class 'F' insulation materials. Certified Inverter Rated for use with a VFD that meets or exceeds MG1 Part 31 NEMA Specifications. Wide selection of 3 Phase motors are available with 1/3, 1/2, 3/4, 1, 1-1/2, 2, 3, 5, 7-1/2 and 10 horsepower, 1200, 1800 and 3600 RPMs and 208-230/460 and 230/460 voltage designations.