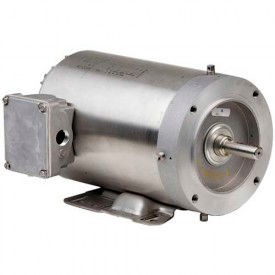 US Motors Washdown Motors, 1 & 3-Ph
US Motors Washdown Motors Are Designed For Reliable And Efficient Operation.

US Motors Washdown Motors have a stainless steel shaft for long lasting durability and strength. Used for food processors, canners, meat packers, bakeries, dairies, drug and cosmetic manufacturers. Motors are energy efficient and come in a variety of styles to fit a wide array of applications. Choose from Footed, C-Face Footed and C-Face Footless models. Available with HP (horsepower) of0.33, 0.5, 0.75, 1, 1.5, 2, 3, 5, 7.5 and 10. RPM vary per model.