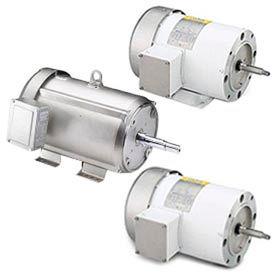 Leeson Washguard White Epoxy, JM & Jet Pump, 3PH
Leeson® Washdown Duty Motors Are For Use With JM And Jet Pumps.

Leeson® Washdown Duty Motors are solidly manufactured for long lasting dependability. For applications subject to strict hygiene requirements. Feature durable RUST-OLEUM® white epoxy coating. Stainless steel shafts, conduit box covers, nameplates and fan guards. Special gaskets, slingers and seals. Four endshield drains. Moisture-resistant interior components. Meet IP55 enclosure protection. Many models Suitable for use on VFDs. Available in various .75 to 15 horsepower units delivering 1440 to 3520 RPMs. Horsepower & RPMs listed, reflect 50 & 60 Hertz operation. Frame designations are 56, 143, 145, 182, 184, 213, 215 and 215JM. 208-230/460V.