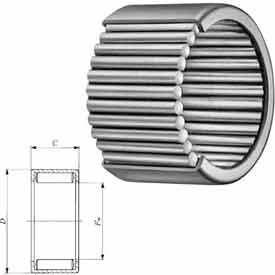 Shell Type- In., Grease Retained
IKO Inner Ring for Shell Type Needle Roller Bearings - INCH (often called Drawn Cup) consists of outer ring that is made from accurately drawn thin special steel plate, needle rollers and with or without retainer. The Shell Type Needle Roller Bearings have smallest sectional height and weight among all of needle roller bearings, and have relatively high load ratings. Needle roller bearing with retainer can be used for high-speed applications as the retainer and the thrust ring precisely guide the rollers. Grease Retained Type (full compliment) is suitable for heavy load with low speed applications. Shell Type Needle Roller Bearings are not provided with pre-packed lubricant except Grease Retained Type. Proper lubrication must be applied when these bearings are used. Shell Type needle roller bearings are generally used with shafts without inner rings. 0.2µmRa or less shaft surface finish and HRC 58 to 64 shaft hardness are recommended. When these requirements are not possible, use of IKO Inner Rings are recommended.

Accuracy: The outer ring of Shell Type Needle Roller Bearings cannot avoid deformation by heat treatment due to their thin cross sections. It is not appropriate to take a direct measurement on the outer ring. Use Standard Mounting Dimensions shown for shaft and housing diameters. Tolerance of outer ring Width is +0 to -0.25 mm.