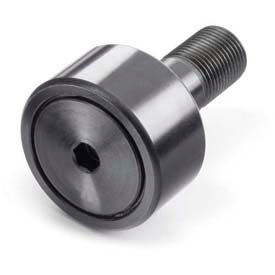 BL Cam Follower- Crowned OD, Eccentric Stud, & Sealed-Hex Head
Cam Followers Provide Precision Engineering And Manufacturing Applications.

Cam Followers are solidly made for long lasting durability and dependability. Hex Head driving system for higher torquing ability. Pre-lubricated and fully re-lubricable. Black oxide finish. Come in Crowned types that are used to keep the load evenly distributed if it deflects or if there is any misalignment between the follower and the followed surface, Sealed types, Heavy Sealed types and With Eccentric Stud types that allow for adjustability during installation to eliminate any backlash. Available in 1/4" to 1-1/2" minimum thread dimensions and 5/8" to 3-1/2" stud dimensions.