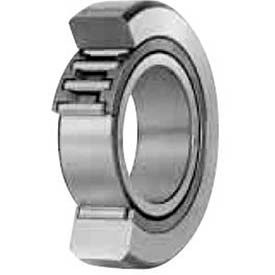 IKO Separable Roller Follower- Metric
Separable Roller Followers - Metric Are Designed For A Variety Of Transmission Installation And Repair Applications.

Separable Roller Follower - Metric are constructed with a pressed steel retainer for long lasting durability and dependability. Variety of sizes available to meet job requirements. Consists of needle roller cage and thick-walled outer ring to withstand heavy rolling or shock loads. Parts easily separated providing easy handling. Available with crowned or cylindrical outer rings. Crowned outer ring relieves edge load created by mounting error. Cylindrical design suitable for applications with large loads or low track surface hardness due to large contact area with mating track surface. Adequate lubrication requested as pre-packed grease not provided. Sufficient lubrication needed between cam followers and steel track on which cam followers run to prevent seizure and reduce friction. Bearings compatible with other precision motion control parts and motors. Types are Double Sealed, Double Shielded and Open. Variety of dimensions available to meet motor installation and repair requirements. Color is Steel. Package quantity is 1.