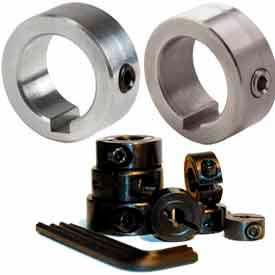 Set Screw Collar with Keyway
Climax Metal Set Screw Collars And Reducer Bushings Are Available For Various Spacing or Coupling Applications.

Climax Metal Set Screw Collar And Reducer Bushings are solidly made for long lasting durability and dependability. Set Screw Collars w/Keyway are available individually in Stainless Steel, Black Oxide or Aluminum construction types with 1 inch bore size. Various 4, 7, 38 or 40 Piece collar sets also available. Reducer Bushings are made of solid Galvanized Steel construction and are available in selected 1/4, 5/16, 3/8, 1/2, 5/8 and 7/8 inch inside diameters and 1, 1-1/16, 1-1/4, 1-5/16 and 1-1/2 inch lengths.