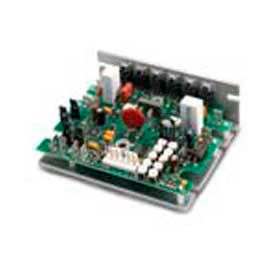 FHP Series AC Controls
FHP Series AC Controls Can Be Used For A Wide Variety Of Applications, Depending Upon The Motor Application.

FHP Series AC Controls feature a cost-conscious and compact design that maintains the industry standard for mounting hole location. That compact design ensures simple set-up and calibration. Rated from 1/4 to 1HP with 115V, 230V or 115/230 doubler" input ratings. Output current ranges from 1.2 Amps to 10 Amps. Choose from open chassis models or enclosed drive models. The Leeson NEMA 4X AC Controls feature a NEMA 4X enclosure with a built-in isolation card that accepts a speed reference signal. Min speed, brake time and current are adjustable. Auto and manual restarts after power loss provide greater versatility. Jumper selection includes DC injection braking or coast to a stop.