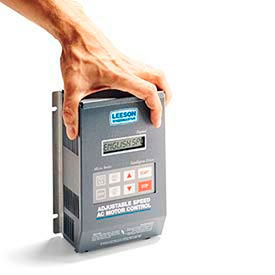 Leeson® AC Adjustable Inverter Speed Drives
Leeson® AC Adjustable Inverter Speed Drives Feature An Intelligent Power Module-IGBT's With 16-Bit Intel Microprocessor.

Made with rugged, heavy gauge steel enclosures and barrier type current limit. Helps adapt standard or premium efficiency three-phase motors to adjustable speed operation. High performance controls program with English read-outs help eliminate confusing coded symbols. Built-in thermal overload protection ensures long life. Keypad for easy programming and operation. Heavy duty wiring terminals are easily accessible. Offers an output frequency of 120Hz and an overload current capacity of 150% for one minute. Includes two auxiliary contacts; one form C-relay and two open collector output. Features 4 preset speeds with adjustable acceleration and deceleration times, forward/reverse control, adjustable carrier frequency and slip compensation. Password protected for security. UL listed.