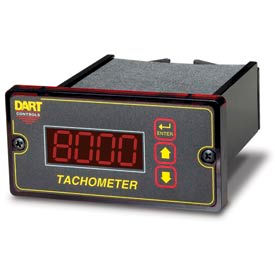 Dart Controls™ Digital Potentiometers And Tachometers
Dart Controls™ Digital Potentiometers And Tachometers Are Used For Conveyors, Drilling, Rotational Operations And More.

DP4 Potentiometers can easily replace a conventional 3-wire analog speedpot or motorized speedpot for most AC and DC drives. Control mode with 1/2" LED display is selectable between rate and time, and jog function and inhibit function are selectable from several modes. Supports bipolar connections for regenerative drives. User-default storage capability allows user to store/recall a known good set of parameters while experimenting with new settings. Accu-Set Potentiometers can be used with conventional AD, DC or Brushless DC adjustable speed drive systems. Target speeds are displayed in RPM, FPM, GPM, Process Time or any other engineering unit of measurement. Settings are exact and repeatable. Adjustable min/max and accel/decel. DM8000 Tachometers are made with selectable alarm relay output (low, high, window or not window). User inputs allow for counter reset, counter gate and alarm display. Control modes are selectable with 1/2" LED display between rate, time and counter. Factory default function and user default storage capability. Universal power supply will support any AC input voltage from 85 tp 265 VAC. 120/240 VAC input.