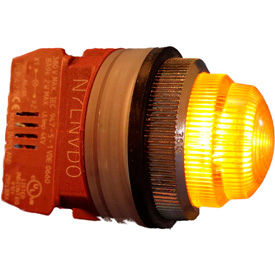 Springer Controls 30mm Pilot Lights
Springer Controls 30 mm Pilot Lights Indicate Electrical Power Is Available, Machine Cycle Status, System Overheat Or Other Industrial And Commercial Application.

Springer Controls 30 mm Pilot Lights utilize either Amber, Green, Red or Yellow incandescent bulbs or LEDs to provide visual indication of power status. Pilot controls mount in a round 30 mm hole to eliminate labor required for notching. Full Voltage, Resistor and Transformer power supplies available in voltages of 12V AC/DC, 24V AC/DC, 120V AC, 120V AC/DC, 240V AC, 240V AC/DC and 480V AC. UL and CSA approved.