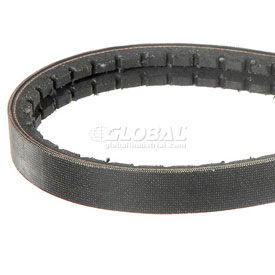 V-Belts, Banded, 5VX Series
Banded 5VX Series V Belts Provide Wide Notch Spacing To Increase Stability And Rigidity.

Banded 5VX Series V Belts are made from high-quality rubber to provide oil and heat resistance and allow for long-lasting durability. The banded, raw-edge cogged design is used for long center distances and pulsing loads. Multiple V Belts are used in construction to prevent unwanted materials from entering sheave grooves. Available in a banded, raw-edged cogged style in black. Various belt numbers and outside lengths are available.