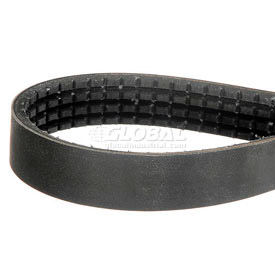 V-Belts, Banded, CX Series
Banded CX Series V Belts Are Used For Pulsing Loads And Long Spans In Wood Processing Equipment, Bulk Material Handling And Pump Applications.

Banded CX Series V Belts are made from oil- and heat-resistant rubber to ensure long-lasting durability. Belts are designed to handle long center distances and pulsating loads. Multiple V Belts are included in unit construction to prevent unwanted materials from entering sheave grooves. Available in banded raw-edge cogged style in black. A variety of belt numbers and outside lengths are available.