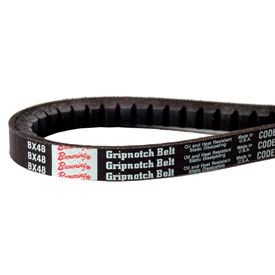 Classic V-Belts, Cogged, AX Series
Classic V-Belts, Cogged, AX Series Increases Rigidity and Stability While Reducing Conveyor Belt Stress.

Classic V-Belts have a fabric top and bottom plus wider notch spacing increases rigidity and stability while reducing the stress on the cord line. Classical cogged AX Belt is 1/2 in. wide and resists oil and heat for use with iron sheaves. Raw Edge Cogged reduces vibration and increases belt and bearing life. Cover on top and bottom of belt increases stability and lowers cord stress. Cogged style has 25% - 30% higher power ratings than standard V-belts. Heat, ozone, and abrasion resistant. Lengths vary per model.