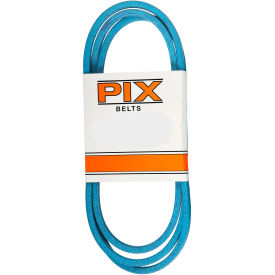 PIX Transmission, Kevlar V-Belts, 3L
PIX Transmission Kevlar V-Belts, 3L Style Are Popular Replacements In Lawn Mowers, Snow Blowers And Other Outdoor Power Equipment.

Kevlar V-Belts are made with large diameter Kevlar cords for high tensile strength and resistance to shock loads. V-Belts are covered with a dry cotton type wrap to ensure high resistance to wear and tear and reduced slippage while clutching. V-belts are able to withstand a high level of reverse flexing for lasting performance. 7/32" thick. Color is Blue. Available in a variety of belt numbers and outside lengths.