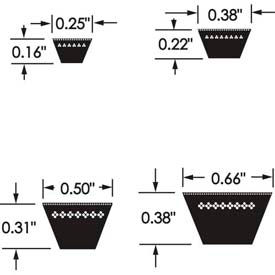 Light Duty V-Belts, 3L Series
Light Duty V-Belts, 3L Series Are Used For Shop Equipment, Residential Appliances, Light-Duty Machinery And Blowers.

Light Duty V-Belts, 3L Series are made of rubber for oil and heat resistance and long lasting durability. Browning V-Belts provide exclusive single wrap design for greater flexibility when using small diameter sheaves, less fabric overlap which reduces vibration and increases belt life. Wrapped to provide smooth quiet operation. ContiTech FHP Belts provides molded cogs for use in applications where belt is expected to perform around smaller sheave diameters.Available in a variety of belt numbers and outside lengths.