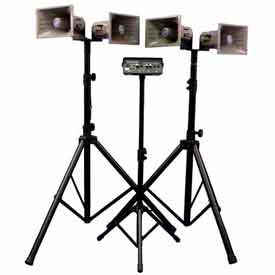 Long Distance Hailers
Long Distance Hailers Are Widely Used For Athletic Events, Public Safety, Law Enforcement, Outdoor Marketing Events, Political Campaigns And More Outdoor Events.

Long Distance Hailers include powerful amplifiers with built-in receivers to boost sound for effective levels to mass audiences. High-quality speakers carry sound long distances for use at large outdoor stadiums, parks and venues. Large selection of Hailer Systems listed with a variety of microphones and accessories to meet specific public address needs. Sound Cruisers and Horn Speakers also available.