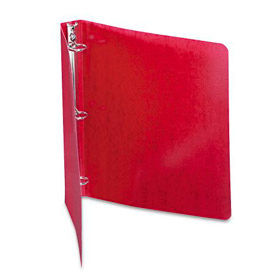 Non-View Round Ring Binders
Non-View Round Ring Binders Are Used For A Wide Variety Of Home Or Office Document Organization And Storage Applications.

Non-View Round Ring Binders are made of durable polymer material for long lasting dependability. Various types are available to meet particular need or budget requirements. Hanging File types feature retractable hooks for easier, more efficient storage capabilities. Recycled Presstex® binders have moisture-resistant covers that keep contents safe from spills.Antimicrobial binders have additive that prevents the growth of bacteria, mold and fungus. Label Holders available in some models for fast reference and identification. 1/2, 1, 1-1/2, 2, 3 and 4 inch ring size binders are available in Black, Blue, Green, Dark Green, Burgundy, Light Blue, Navy Blue, Red and Yellow colors.