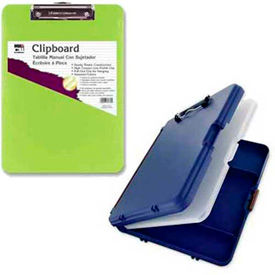 Plastic & Vinyl Clipboards
Plastic and Vinyl Clipboards Hold Paper Securely For Schools, Offices, Medical Environments, and more.

Plastic and vinyl clipboards are designed with injection-molded plastic to support documents with stable pressure. Clipboards have low-profile clip with a rubber grip to hold paper securely. Pullout hook provides hanging. Handy, 12" rulers on the edges line both sides of the transparent clipboard. 1/16" graduations on one side and centimeters on the other side provide measuring capabilities. Available styles include Letter/Medical Clipboard, Styleboard Clipboard, Quick reference Clipboard, Unbreakable Recycled Clipboard, Clipboard Folder, Rubber Grip Clipboard and more. Available colors include Red, Black, Clear, Charcoal, Neon Oragne, Assorted Neon, Blue, Pearl, Yellow, Smoke Gray, Pink and more. Sizes and package quantities vary per style.