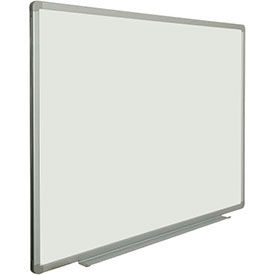 Porcelain Marker Boards
Porcelain Marker Boards are made for Heavy Duty Use in Offices, Conference Rooms, Classrooms and more.

Porcelain Marker Board surfaces have a ceramic enameled surface that will not dent, scratch or ghost, making this optimal for high level, heavy use. Magnetic surface doubles as a bulletin board. Styles are Projection Surface, Whiteboard, and Whiteboard w/Map Rail. Frames are Black or Silver. Other dimensions vary per model. .