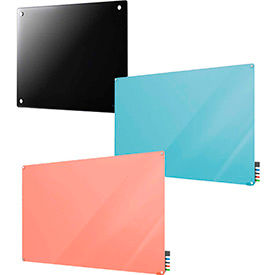 Colored Glass Dry Erase Boards
Colored Glass Dry Erase Boards are made of Heavy Duty Tempered Glass for Lasting Use.

Colored Glass Dry Erase Boards are perfect for a fresh, modern aesthetic. Surface is non-porous so it won't absorb ink and won't ghost over time. Standard Whiteboards are installed slightly away from the wall using silver standoff hardware which is drilled through the board and into the wall. Wall Tiles are flush to the wall and installed by hooking the back of the board into wall cleats. This type of installation allows for a sleek, clean board, as no hardware is visible from the front of the board. Magnetic styles available. Variety of colors available. Dimensions vary per style.