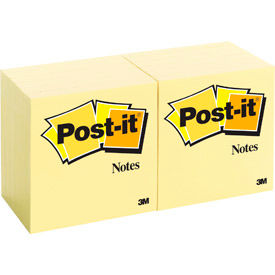 Post-It & Self-Stick Notes
Post-It & Self-Stick Notes Offer High Visibility Writing Surfaces for Classrooms, Offices, and Residential Applications.

These sticky notes are constructed in various shapes and colors for quick note taking and long lasting durability. Self adhesive paper holds firmly to any hard surface and removes cleanly to allow for convenient reminders, note taking and list making. Pop-up dispensers allow for easy one-hand dispensing of notes. Available styles include Apple-Shaped Dispenser, Array Memo Cube, Plain Note Pads, Pop-Up Adhesive Notes, Pop-Up Note Refills, Mini Cubes, Recycled Notes, Self-Stick Pads, and Super Sticky Ultra Notes. Dimensions and quantities vary per model.