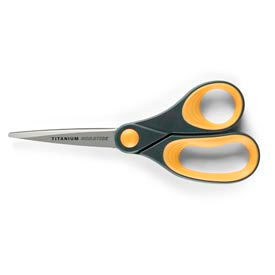 All Purpose Scissors
All Purpose Scissors Provide Smooth, Even Cutting With Sharp, Lightweight Blades for Schools, Offices, Residential, and Other Environments.

These scissors are constructed with stainless steel, titanium bonded, aluminum bronze or copper beryllium blades and other high quality materials for long lasting durability and corrosion resistance. Some scissors have soft handles to provide added comfort and precision control. Child-friendly blunt tipped scissors offer added safety for use in primary schools, daycares, and home crafts. Some scissor are non-sparking for safe use in hazardous work areas. Most models suitable for left or right handed use. Available handle types are Bent, Double Thumb and Straight. Color finishes include Black, Blue, Bronze, Copper, Gray, Nickel, Orange, Pink, Purple, Red, White and Yellow. Sizes and package quantities vary per model.