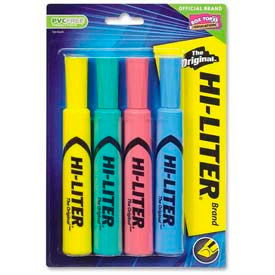 Tank Style Highlighters
Tank Style Highlighters Provide a High Visibility Writing Tool for Offices, Schools, Firms, and Other Related Environments.

These highlighters are made with quick-drying ink to reduce smearing while providing extra visibility and dependability. Will not fade type or bleed through most paper. Tank design with chiseled tips and caps that keep ink fresh and securely clip to opposite end while in use. Come in a wide selection of brands and styles to suit any particular taste or writing requirement. Brands include Avery®, Bic®, Integra™, Pentel®, Sanford®, Sharpie®, Staedtler®, Zebra® and Baumgartens®. Tip styles are Chisel, Fine and Micro Chisel. Wide variety of fluorescent or regular colors including Blue, Green, Orange, Yellow, Pink, Violet, Light Blue, Lavender and Turquoise. Available in single units or various numbered sets, color assortments and package quantities.