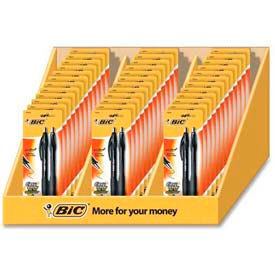 Retractable Ballpoint Pens
Retractable Ballpoint Pens Provide Superior Writing Comfort and Control for Classrooms, Offices, Banks, and more.

These pens are made to provide lasting dependability and reliability. Retractable, clip-on style makes them easy and comfortable to use and carry. Come in a wide selection of brands and designs to suit any particular personal taste, budget or writing requirement. Brands include Bic®, Integra™, Paper Mate®, Parker®, Pentel®, Pilot®, Universal®, and more. Choose Bold, Fine, Fine Pen/Extra Fine Pencil, or Medium ballpoints. Ink colors are Assorted, Black, Blue, Purple, and Red. Multiple color assortments are also available. May be purchased in single units or various numbered sets and package quantities.