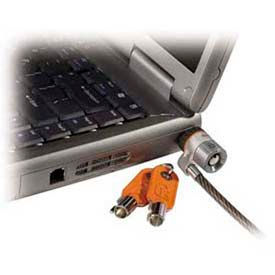 Laptop/Desktop Security Cable Locks
Laptop/Desktop Security Cable Locks Secure Laptops for Office Settings or Travel.

Laptop/Desktop Security Cable Locks are made with carbon steel cables to provide impenetrable protection and long lasting durability. Tamper-resistant lockhead and advanced cable construction ensure security. ClickSafe lockhead pivots 180 degrees and rotates 360 degrees around cable for flexibility and convenience. Super-strong steel cable and tamperproof disk-style lock provide strong physical security. Available styles include Keyed Lock Pack, Combination Laptop Lock, Keyed Laptop Lock, Twin Laptop Lock, Ultra Laptop Lock, Desktop PC and Peripherals Lock Kit, Laptop Locking Station, Portable Combination Laptop Lock, Cable Lock for iMac and more. Lock types are Cable/Combination, Cable/Keyed, and Keyed. Cable lengths range from 4' - 8'. Available colors include Black, Black/Grey, Black/Silver, Gray, and Red.