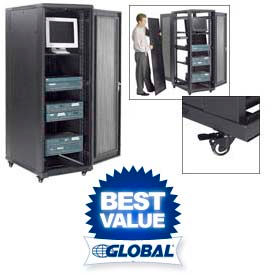 Network Rack Cabinets
Network Rack Cabinets Organize, Store and Secure Rack Mounted Commercial and Industrial Computer Equipment for Office Tech Centers.

Network Cabinets are made of solid steel construction for long lasting durability and dependability. Cabinets protect network servers and sensitive telecom equipment from unauthorized access, dust and damage. Rack cabinet supports rack-mountable servers and options. Model features include adjustable interior side rails, vented or glass front and rear locking doors, removable locking side doors for extra ventilation and easy access, and sturdy mobile casters. Available cabinet types include Data Cabinets, Cabinet Racks, Server Racks, Rack Enclosures, Vented Rear/Front Door Cabinets, and Vented Rear Door/Glass Front Door Cabinets. Dimensions, load capacities, and rack spaces vary per model.