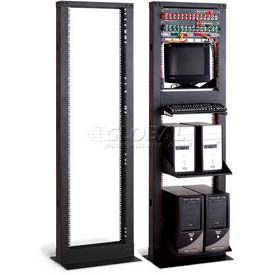 2-Post Open Frame Racks
Two Post Server Rack Frames Are Used For Organizing, Storing And Protecting Rack Mounted Commercial Or Industrial Equipment.

Two Post Server Rack Frames are made of solid steel construction for long lasting durability and dependability. Used for use in wiring closets, telecom rooms, data centers and more. Various two post network cabinet models designed for adjustable vertical mounting of equipment trays and in-frame cable management. 400, 800 and 1200 lb. weight capacity, 25U, 41U and 45U rack space units are available in 20-1/4, 20-5/16 and 24 inch widths, 14, 15, and 24 inch depths and 47-1/8, 49, 78 and 82-1/8 inch heights.