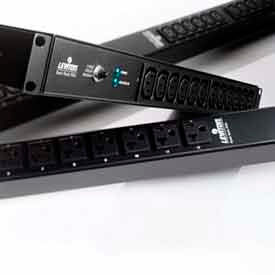 Leviton Horizontal and Vertical Rack Mount Power Distribution Units
Horizontal Rack Mount PDU 12 Receptacles w/ 7ft Power Cord, 120V, 20A, 5-20P

Leviton's 4500 Series of power distribution units (PDUs) offer robust, economical power distribution to essential electronic equipment. The recently expanded product line provides more options for applications that do not require surge protection. All models include a rocker-style on-off switch and both front and rear-facing receptacles, and 20 Amp models have locking plug option.