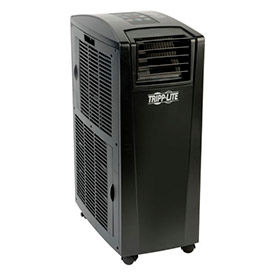 Tripp Lite SmartRack Portable Air Conditioners
Tripp Lite SmartRack Portable Air Conditioners Provide Efficient Cooling For Data Centers, Server Rooms, Network Closets, and more.

These air conditioners adjust to ambient room temperatures, dehumidify, and filter air to improve air quality for enhanced equipment performance with minimal noise and power consumption. The integrated evaporator expels condensed water through the exhaust duct, eliminating the need for a drain tube, drain pan, or water collection tank. Standard louvered vent provides general room cooling while the directional ducted cooling vent directs cold air where needed. The directional exhaust duct safely removes hot air from the room, and the auto-restart feature automatically resumes operation at previous setting once power is restored. Controls and displays are conveniently mounted on the top panel for easy user access. Units feature built-in casters for easy mobility and transport. Includes built-in timer for unattended start-up and shutdown. Environmentally friendly R410a refrigerant. Cooling BTUs are 7000, 12000, and 33000. Voltages are 120, 208/230, and 240. Dimensions vary per model.