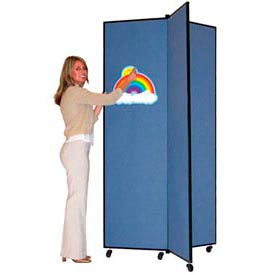 Screenflex® Fabric Upholstered Mobile Display Towers
Mobile, Foldable Display Panels Easily Move, Expand And Display Notes, Messages, Artwork And More.

Simply move, unlock and unfold partitions to provide a full, extra large display area for various environments. Accepts push pins, tacks, staples and more with ease (not included). Made using 76% recycled material. These partitions feature sound absorbing fabric upholstery that provides a tackable surface. Panels are finished with 20 gauge powder coated steel trim covering 26 gauge galvanized steel framing. Panels are constructed of 1/2" closed cell honeycomb core with non-woven fiberglass facing and matte. Panels are joined with full length piano hinges and position control pivot-point hinges that allow panels to be placed up to 180 degrees for various configurations. For mobility, portable partitions include self-leveling, non-marring rubber casters and locking end casters for stationary positioning. Fully assembled. 3 Year Limited Warranty.