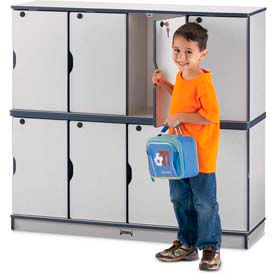 Daycare & Preschool Stackable Lockers – Lockable
Kids Stacking Lockers With Colored Edge Are Used For Use In Schools, Daycare Centers And More.

Kids Stacking Lockers With Colored Edge have a KYDZStrong® construction for long lasting durability and strength. KYDZHinges® on doors ensure smooth and easy motion. Different locks and keys provide secure storage. Units can be stacked for increased storage capacity (must be fastened to a wall). Choose from Single Stack, Double Stack and Triple Stack models for increased versatility. Constructions, dimensions, colors and warranties vary per model. GreenGuard Children & Schools Certified.