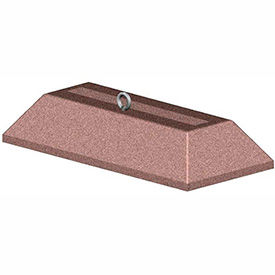 Petersen Mfg Concrete Bike Rack
Petersen Mfg Concrete Bike Racks Provide a Secure Place for Bicycles in Outdoor Settings.

Concrete bike racks have a steel reinforced construction for immovable placement and durability in outdoor environments. Available styles are 6 Bike Capacity, Single Bike Rack, and Decorative Bike Rack w/Steel Inserts. Bicycles stay secured in public areas or parks. Heights are 7" or 19". Lengths are 29" or 62". Widths are 11" or 31". Available colors are sand or tan.