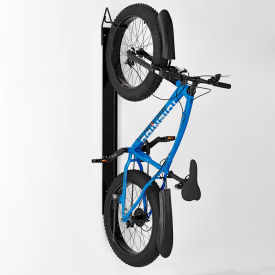 Wall & Ceiling Mounted Bike Racks
Wall And Ceiling Mounted Bike Racks Are Used For Applications Including Residential, Commercial, Storage, And More.

Wall and ceiling mounted bike racks are made of steel for long lasting durability and dependability. Racks provide space saving bicycle storage for basements, garages, closets, and more. Units accommodate narrow or wide wheel bikes for walls, ceilings, posts, and more. Powder coat finish ensures corrosion resistance. Hardware included for easy installation. Available styles include 1-Bike Bike Trac, 1-Bike Bike Trac/Locking, 2-Bike Bike Bunk, Bike Hangar, Bike Lift, Fat Tire Bike Trac, Fat Tire Bike Trac/Locking Cable, and Folding Bike Rack. Mount types are Ceiling Mount, Vertical Mount, Vertical Mount/Non-Locking, and Wall Mount. Capacities are 1 Bike and 2 Bikes. Dimensions vary per model.