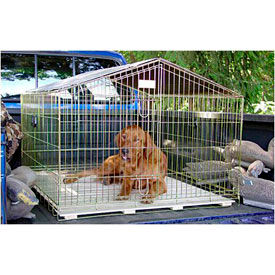 Lucky Dog™ Travel Kennel
Lucky Dog™ Travel Kennel Fits In The Back Of Pick-Up Trucks And SUVs.

Meets the demanding needs of dog owners and dogs on the go. Travel kennel is made using commercial grade anodized steel wire. Quick connect one-piece framing includes a raised wood comfort flooring system. Includes side mounted carry handles. Includes Weatherguard™ kennel cover for added protection that keeps out the elements. Cover is made using waterproof, UV protected 3-layer polyethylene with reinforced tie-down grommets. Protects animals from sun, snow and rain. Folds to less than 4" thick for easy storage when not in use. Recognized by the American Kennel Club™ for its safety, convenience and style.