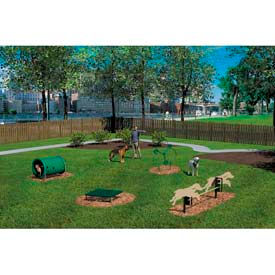 Dog Agility Equipment
Dog Agility Equipment Is Used For Residential Or Municipal Parks, Open Areas, Highway Rest Stops And Other Outdoor Pet Exercise Or Recreational Facilities.

Dog Agility Equipment is solidly made for long lasting durability and dependability. Wide variety of activity equipment, stations and courses designed for pet play and exercise in parks, open areas and other outdoor environments. Include Walks, Crawls, Hoop Jumps, Inclines, Teeter Totters, Jump Overs and more. Choose individual items or various Novice, Intermediate or Expert type kits. Available in various dimensional sizes and choice of Natural, Green or Playful, Red and Blue color finishes.