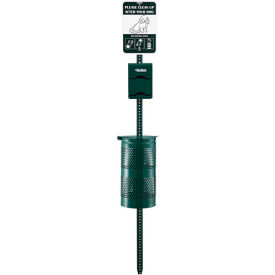 Pet Waste Disposal Systems
Pet Waste Disposal Systems Encourage Guests and Visitors To Clean Up After Their Dogs.

These systems are used for public parks, dog parks, apartment communities, recreation areas, hotels, campgrounds, and many other outdoor areas. Bag dispensers have diamond shaped openings that create more resistance to the bag when pulling and tearing off the roll. 400 bag capacity. Includes a locking access panel for easy maintenance. Aluminum Dispenser is made of 0.08 gauge aluminum with a powder coat finish. Metal dispenser measures 15-1/2"L x 9-1/2"W x 3-1/4"D. Polyethylene Dispenser is made of 2mm ABS polyethylene. Poly dispenser measures 17"L x 10"W x 3"D.

Pet Stations include a telescoping post (4' to 8'H), a bag dispenser, waste receptacle, reflective 18" x 12" aluminum sign, 2 rolls (400 Bags) of litter pick up bags and one box of 50 heavy duty trash liners. Includes mounting hardware. Choice of Aluminum or Polyethylene.

Litter Bags are made of 0.7 mil Oxo-biodegradable recycled content. Bags measure 13"L x 8"W. Come in rolls of 200. Sold in cases of 10.