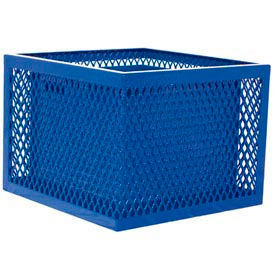 Ultra Play® - UltraCoat™ Steel Planters
Thermoplastic Coated All Steel Planters Help Create An Aesthetically Pleasing Outdoor Environment.

Thermoplastic coating is UV protected, prevents mold and mildew, and resists cutting and vandalism. Heavy duty, all MIG welded steel offers superior strength for impact resistance and UV stability. Includes plastic liner to retain soil within planter. Base allows floor anchoring for permanent installation. Measures 24 W x 18 H. Diamond Planters feature 9 gauge expanded metal mesh with 3/4" openings. Perforated Planters feature a 12 gauge perforated metal with 5/8 diameter punched pattern. 5 Year Limited Warranty.