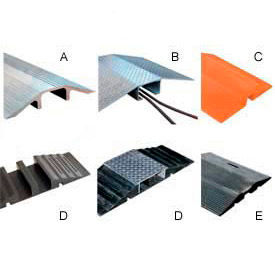 Cable & Hose Bridges
Cable Stay Bridges Protect Hoses And Cables From Pedestrian And Rolling Traffic.

The top surface of each hose bridge features serrations for extra traction. Style A cable bridges are made with extruded aluminum. Style B cable guards are made from fabricated aluminum. Style C cable guard ramps have a molded urethane design. Style D hose bridges are made with molded rubber and have a channel design. Style E cable covers have a molded rubber design.