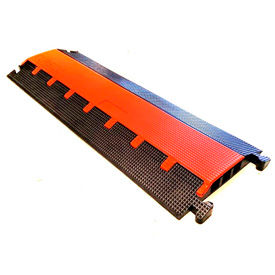 Elasco Products Cable Guards
Elasco Products Cable Guards Offer High Impact Protection For Cables, Hoses, and Cords In Light Vehicle or Pedestrian Traffic.

These guards are solid, cast polyurethane industrial grade cable guards, hose guards and cord dropovers that provide lasting endurance and durability. Guards feature high level rigid defense and are abrasion and impact resistant. Interlock design allows for short or long run capability. Heavy Duty 4 Channel Cable Ramp is ideal for mining trucks and other large capacity vehicles. Select models glow in the dark for additional aide and visibility where areas are dim lit or without light. Available styles include 1, 2, 3, 5, 6, and 7 Channel Cable Guards. Capacity ranges from 6,125 lbs. per tire to 50,000 lbs. per tire depending on the model. Overall lengths are 19", 22-3/4", 27-1/2", 36", 37", or 52-1/2". Available colors are Black, Black/Orange, Orange Lid/Black Base, Blue/Orange, Yellow, and Red. Dimensions vary per style.