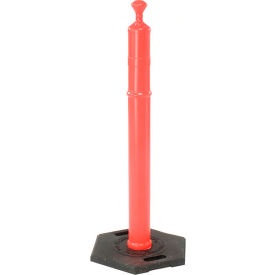 Delineator Posts With A Grab Handle
Delineator Posts With A Grab Handle Are Purposed For Roads and Transportation Infrastructures.

Delineator posts with a grab handle help separate traffic lanes. Grab handle top also holds optional Barrier Tape (not included). 4" diameter polyethylene delineator posts are available with or without two 2" reflective bands that provide high visibility at night. Choice of 28", 33-5/8", 42", and 47-5/8" high posts. Some delineator posts include a rugged detachable base for added stability. Most models meet MUTCD and NCHRP-350 standards. Rubber Bases weigh 10 lbs. or 12 lbs. depending on the model and are oil, weather, and UV resistant. Dimensions and additional specifications vary per model.