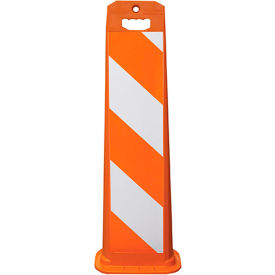 Vertical Panel Channelizers
Vertical Panel Channelizers Are Suitable For Outdoor Locations In Need of Vehicle Direction Guidance.

Vertical panel channelizers provide direction guidance for industrial lots, streets, and more. Select units allow both grabber tops and barricade lights. Thick flange design holds securely onto base. Some models include signs with arrows and messages that are ideal for parking garages. Most models are MUTCD listed. Available Colors are Black, Orange, and White. Available Stripe Colors are Orange/White. Dimensions and additional specifications vary per model.