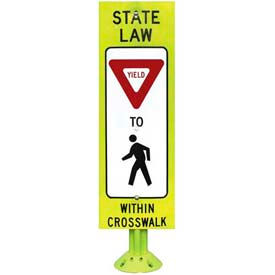 Crosswalk Sign Systems
Crosswalk Sign Systems Offer Safer Street Crossings for School Children and Other Pedestrians.

Crosswalk sign systems feature bright florescent colors to designate road safety for pedestrians. Select signs available without base. Aluminum, molded rubber, or plastic construction provides lasting durability. Post and signs Types include Stop For Pedestrians, State Law Yield To Pedestrians, and more. Colors are Fluorescent Yellow/Green/Black and Yellow. Heights are 36", 40", or 42". Additional specifications vary per model.