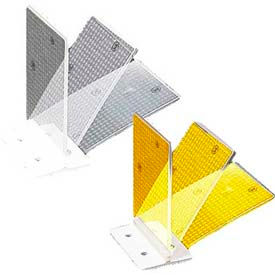 Barrier Mount Reflectors
Barrier Mount Reflectors Provide Bright Delineation Of Concrete Barriers And Bridge Parapets.

Barrier Mount Reflectors are manufactured with virgin engineering resins and high quality reflective tapes and adhesives for long lasting durability and dependability. For use in both work zone construction maintenance applications and for permanent installations. 3 inch x 4 inch Ridged or Hinged reflectors are available in 1-Sided, White or 2-Sided, Yellow models.