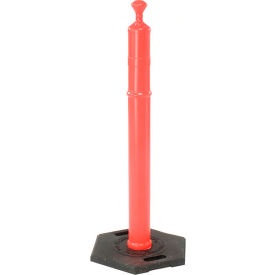 Delineator Posts With A Grab Handle
28"H & 42"H Delineator Posts with A Grab Handle are used on Roads to Help Separate Traffic Lanes.

These delineator posts feature a grab handle top that also holds optional Barrier Tape (not included). 4" diameter polyethylene delineator posts are available with or without two 2" reflective bands that provide high visibility at night. Choice of 28 or 42 high posts. Delineator posts include a rugged detachable base that weighs 12 lbs. to provide stability. Meets MUTCD and NCHRP-350 standards.