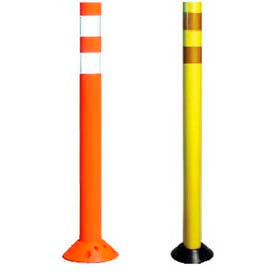 Traffic Channelizer System
Traffic Channelizer Systems Properly Direct Traffic And Reduce The Chance Of Accidents.

Traffic Channelizer Posts are made of highly durable thermoplastic polyurethane for high impact resistance and long lasting durability and dependability. With 360 degree visibility, day and night, parking lot posts clearly delineate driving lanes with bright colors and reflective sheeting. Ultraviolet resistant material withstands extreme temperatures and weather conditions. Easy to install. Available styles are Round Traffic Channelizer Post or Round Flexible Channelizer Post that returns to full upright position after impact. Available post colors are Black, Fluorescent Orange, White or Yellow with White or Yellow tape color. 3" in diameter. 36" in height. DP 200 Base or Anchor Cap Plug are also available to match specific models. MUTCD compliant.