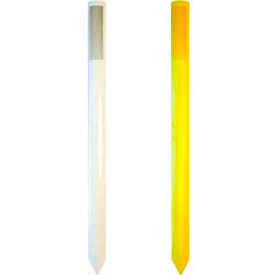 FG500 Delinator Posts
FG500 66° Delineator Posts Are Used For Use In Both Hot Or Cold Environments.

FG500 66° Delineator Posts are manufactured with post-consumer recycled engineering thermoplastic resins and high quality retro-reflective tapes to endure multiple high-speed impacts and years of installed service. Highly visible, day and night. they clearly delineate driving lanes with bright colors and reflective sheeting. Available in White with White Sheeting or Yellow with Yellow Sheeting. Ground Mount. Steel U-Channel Anchor also available. 4" in diameter. Approved by the US/DOT FHWA for use on all federal highway projects.