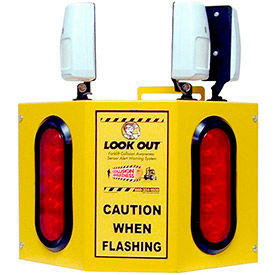 Collision Awareness Traffic Alert & Forklift Sensors
Collision Awareness Traffic Alert & Forklift Sensors Serve as Lookout Sensors For Detection Systems, Security and Access Control and General Workplace Safety.

Collision Awareness Forklift Sensors alert forklift drivers, employees and pedestrians of dangerous encounters around blind corners. Each dock door monitor emits a bright flashing light to warn employees of approaching forklift vehicles. Unit is quick to start with no load time. Models can be hung at any corner, mounted to any style rack upright or door depending on the model. Office Door Monitors are ideal for inplant offices near forklift activity. Most units accept dock doors within 20'. Available Types are Indoor/Outdoor Forklift Traffic Alerting Unit, Large Look Out Sensor, Interior Alerting Strobe, Office Door Monitor, Overhead Forklift Door Monitor, and more. Available with 1 - 4 lights and 1 - 6 sensors. Strobe lights available. Exterior and remote sensors available. Cord length range is from 6 - 50 ft. depending on the model. Additional specifications vary per model.