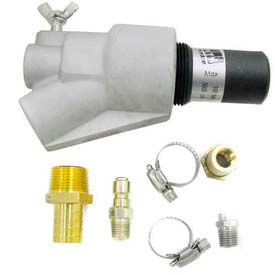 Pressure Washer Sand Blast Kit
MTM Hydro Sand Blast Kits Are Perfect For Converting Industrial And Professional Strength Pressure Washers Into Sand Blasters For Removing Tough Stains, Graffiti And Rust From Difficult To Clean Surfaces.

Sand blasters are used in a wide variety of industrial applications for cleaning purposes. MTM Hydro Sand Blast Kits attach directly to a pressure washing wand to transform it into a sand blasting wand. Kit is made of corrosion-resistant brass and plastic for long lasting durability. Sand blast kits feature easy assembly. The MTM Hydro Sand Blast Kits come with a variety of clamps to ensure firm connections. This mechanical solution features no moving parts and is an inexpensive way to utilize a machine a pressure washer as a sandblasting tool as well. All sand blasting kits come with a 25 ft. hose and can operate at a flow of 4 / 8 gallons per minute. Sizes and pressure options vary by model.