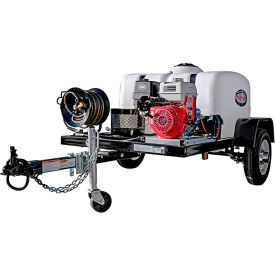 Trailer Mount Pressure Washers
Trailer Mount Pressure Washers Provide On-Site Cleaning Capability.

Trailer Mount Pressure Washer is a single-axle trailer package with swing-away hitch, 200-gallon water tank, electric-start hot water skid and select accessories for on-site cleaning. Package includes TRS-2500 Trailer, High-Pressure Hose Reel, Low-Pressure Garden Hose Reel, Saddle Boxes (2), Rock Guard, 3-way ball valve for easy switching of water flow from the holding tank to a faucet, and electrical wiring recessed within tubular frame. Hot Water Skid operates at 3.5, 3.7 or 4.7 GPM and up to 4200 PSI. Available drives are Direct or Belt. Battery installed.